Welcome to Catnapin's
Pink and Red Wildflower Gallery
Tube Flowers - Four-O'clock family
---

The "flower" is a perianth, which is when calyx and corolla combine together. There are no true petals, but five fused sepals.; The most common Four O'clock types have a long tube with an abrupt flare (like a trumpet). Other species do not have the long tube. Many species of this family bloom in the evening or at night.

The involucre (bract structure) cups the fruit. The bracts act like sepals because the sepals act like petals, which are not there. In some species, the incolucre spreads out to resemble a petal-like saucer after the "petals" drop off. They can be green or white; some are tinted pink or purple.

Each species has a very distinctive fruit (the seed is inside). Some species have only one fruit, others have 2-3. Fruit can be hairy, glabrous (no hairs), ribs, bumps (tubercles), or smooth.


---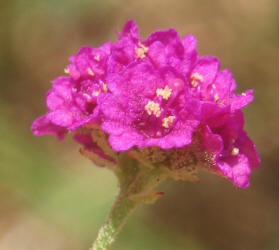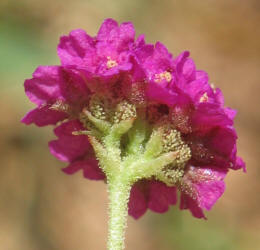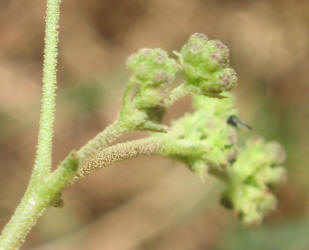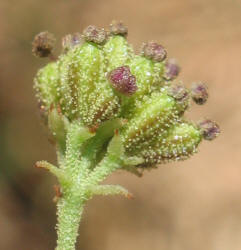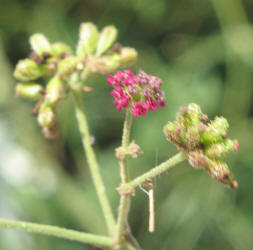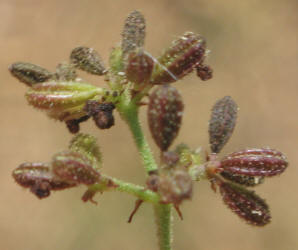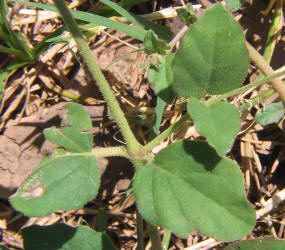 Nyctaginaceae - Four-O'clock family
Scarlet Spiderling Boerhavia coccinea
Clusters of tiny magenta to red flowers. Upright to reclined. Stems and leaves sticky.
Photos taken in Taylor County, Texas, September 2007
(Native of Texas - Jones, Brown, Coke)
Similar Species
Red Spiderling Boerhavia diffusa
Clusters of red flowers. Roundish leaves, widely spaced, unequal pairs. Diffuse means to spread thinly, which is the form of this plant, flat.
(Native of Texas - Jones)
Erect Spiderling Boerhavia erecta
White/pink 5 lobed tube flower in small loose clusters. Narrow leaves in unequal pairs. Stems green or purple, sticky.
(Native of Texas - Taylor, Jones, Coleman, Brown)
Narrowleaf Spiderling Boerhavia linearifolia
Magenta 5 petal tube, stamens become prominent, blooming alternately on the branch from the bottom up. Slender branches with long thick narrow leaves. Branches reddish and sticky. Grows 15"-24" tall.
(Native of Texas - Coke)
---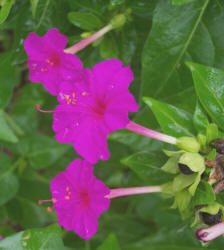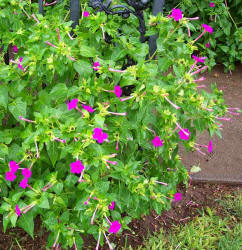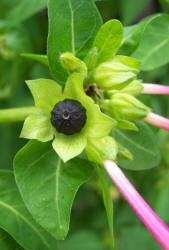 Nyctaginaceae - Four-O'clock family
Four-O'clock Mirabilis jalapa
Flower about 2" long tube and 3/4" wide, opens in late afternoon. Color is variable. It can be solid magenta, pink, white, yellow; or have multiple colors on a bush; or change color as the flower ages. Fruit is about 1/4" round with lumpy ribs. Shrub-like plant grows to about 3 feet tall. These plants die back with frost but return because of large tubers and many seeds.
Photos taken in Taylor County, Texas, July 2004
(Introduced, native of Peru, intrusive)
See similar Honeysuckle
---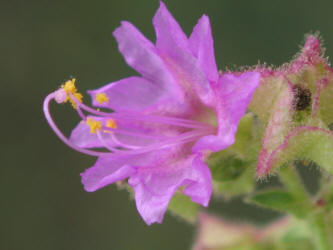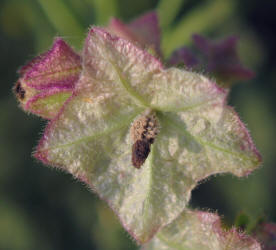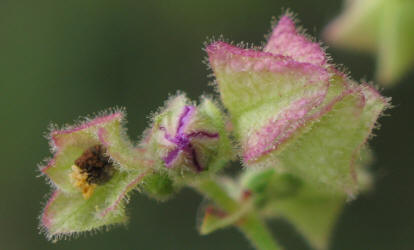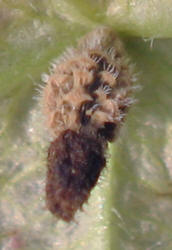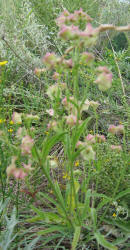 Nyctaginaceae - Four-O'clock family
? Common Name **zr 2** Mirabilis sp.
This plant was found on a cool foggy morning with the pink petals still attached, but they had fallen off by midday. The 5 petals are deeply notched, 3/4"-1" wide. The fused greenish sepal "petals" are tinged in rose and surround the single fruit. Fruit is covered in tan scales and has a dark protruding cone. Upright plant with several stems from base, branching at top. Opposite leaves at base and at branching, 2"-3" long, green, lanceolate, folded.
Photos taken in Coleman County, Texas, September 2005
(Native of ?)
---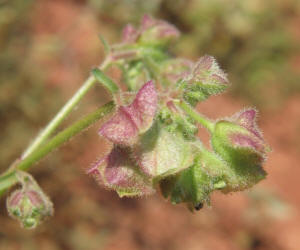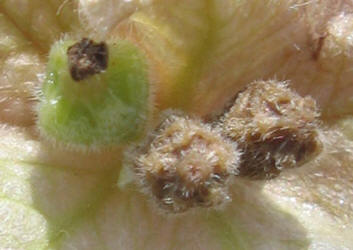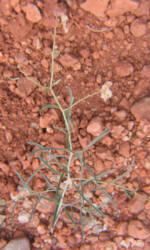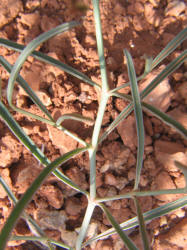 Nyctaginaceae - Four-O'clock family
Narrowleaf Four O'clock Mirabilis linearis
White to magenta flowers (no photo), less than 1/2" wide. Wide bell shaped cup (involucre) is pale green tinged with pink/purple, rounded lobes, up to 5/8" wide, holds 1-3 fruit. Flowers are in loose clusters. Peducles less than 1/2" long can be glandular and hairy. Olive brown fruit, hairy with prominent ribs, 3/16" long. Opposite leaves along stem are 1"-4 1/2" long but only up to 5/8" wide, rounded tip, folded, gray-green, fleshy or succulent. No leaves on inflorescence branches. Stems can have swollen joints. Grows from woody taproot to 3 feet tall, decumbent, ascending, or erect.
Photos taken in Taylor County, Texas, June 2005
(Native of Texas - Taylor, Coleman, Brown, Coke, Nolan)
---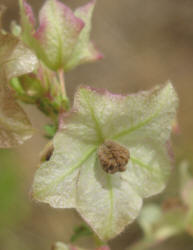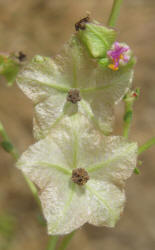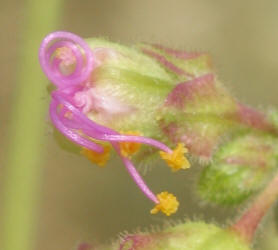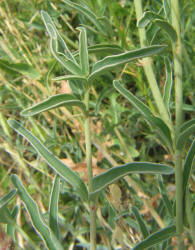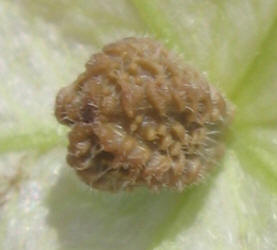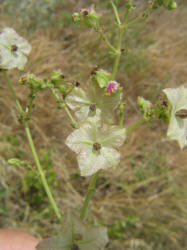 Nyctaginaceae - Four-O'clock family
White Four O'clock Mirabilis albida
White to magenta flowers (no photo), less than 3/4" wide. Wide bell shaped cup (involucre) is green tinged with pink/purple, pointed lobes, up to 5/8 wide, holds 1-3 seeds. Brown seeds, hairy with bumpy/ribs, 1/4" long. Opposite leaves along stem are 1"-4" long, linear with rounded tip, folded, gray-green with light green edge. No leaves on inflorescence branches.
Photos taken in Taylor County, Texas, July 2005
(Native of Texas - Taylor, Coleman, Brown, Coke)
Second Specimen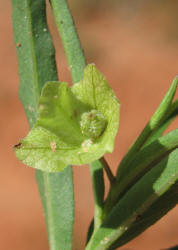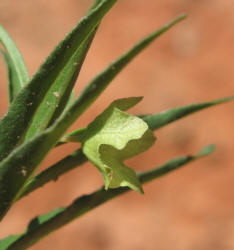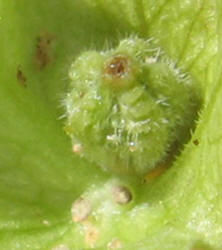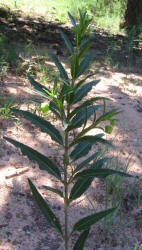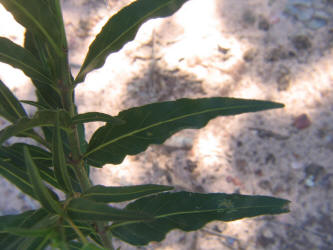 White to magenta flowers (no photo), less than 3/4" wide. Wide bell shaped cup (involucre) is bright green without pink/purple tint, pointed lobes, about 5/8" wide, holds 1-3 fruit. Green fruit, 1/4" long (no dry photo). Opposite leaves along stem are 3" long, linear with rounded tip, folded, dark green with light green rib. No leaves on inflorescence branches.
Photos taken in Taylor County, Texas, June 2005
---
Other Four O'clock Species in My Area
Trailing Four O'clock (Trailing Whidmills, Ant Weed) Allionia incarnata
Flowers are 1/4" long, open in the morning and remain open for most of the day. Color, rose, magenta, white. This plant does not have petals but elongated sepals. Each "flower" is actually a cluster of 3 small flowers. Sprawling perennial that can reach 6 feet across. Leaves are opposite, oval, grayish, thick, and covered with sticky hairs.
(Native of Texas - Coke)
Giant Four O'clock Mirabilis gigantea
Pink flowers drop to show bract cup that holds seed. Leaves are large and wide. Plant can get tall.
(Native of Texas - Callahan)
Smooth Four O'clock Mirabilis glabra
Flowers white to pale pink. Leaves are large and wide. Fruit is usually hairless.
(Native of Texas - Taylor, Callahan, Fisher)
Heartleaf Four O'clock Mirabilis nyctaginea
Flowers are in dense clusters, small pink. Leaves large and heart shaped.
(Native of Texas - Taylor, Brown)
---
Email:
wildflowers"at"catnapin.com
to reduce spam, change "at" to @
please be specific