Welcome to Catnapin's
Insect Gallery
Owlet Moths
order Lepidoptera - family Noctuidae
---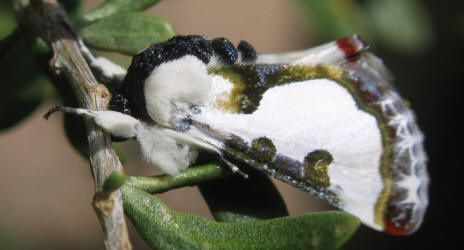 subfamily Agaristinae (Forester Moths)
Wilson's Wood-nymph Moth Xerociris wilsonii
Photo taken in Taylor County, May 2007
Moth: 3/4" long
Caterpillar: 1 1/2"-2" long. Black with thin white rings and dark red dots on side (can be orange when young). Silky sheen. 4 pair tentacles at head, 1 pair on rump.
Pupa: 3/4"-1" long. Reddish brown.
Cocoon: branch scrapings to make wood pulp lump.
---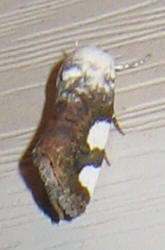 subfamily Acontiinae
Exposed Bird Dropping Moth Acontia aprica
Photo taken in Taylor County, August 2008
Moth: 3/4" long
Caterpillar:
Pupa:
Cocoon:
---
Email:
critter"at"catnapin.com
to reduce spam, change "at" to @
please be specific
Copyright Notice: All photos are copyrighted and protected by the laws of the United States.
Unauthorized duplication for sale or distribution is prohibited.