Welcome to Catnapin's
Insect Gallery
Crescent & Checkerspot Brush-footed Butterflies
order Lepidoptera - family Nymphalidae - subfamily Nymphalinae
---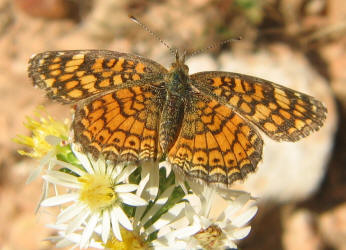 Sipping Heath Aster
Graphic Crescent (Vesta Crescent) Phyciodes graphica
Photo taken in Taylor County, November 2006
(Nolan, Shackelford, Coke, Runnels, Coleman, Brown)
Butterfly: 7/8"-1 1/2" wide. Eat nectar.
Caterpillar: Eat Hairy tubetongue (Siphonoglossa pilosella) in the acanthus family.
Pupa: x
---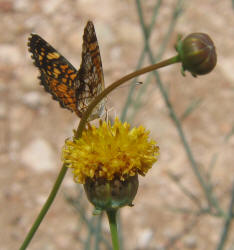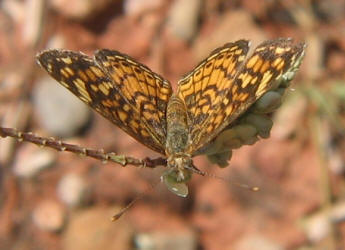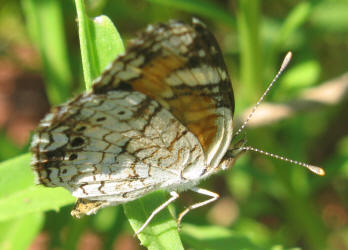 1) on Rayless Green-thread 3) on Texas Frogfruit
Phaon Crescent Phyciodes phaon
Photo taken in Taylor County, June 2005, November 2006
(Coleman, Brown)
Butterfly: 1" - 1 1/2" wide. Eat nectar.
Caterpillar: Eats Frogfruit
Pupa: x
---
Other Crescent Brush-foots in My Area
Painted Crescent Phyciodes picta
1 - 1 1/2 inches. Upperside is dark with yellowish spots. Below, forewing apex and all of hindwing are yellow-cream with pale or absent markings.
(Coke)
Texan Crescent Phyciodes texana
1 1/4 - 1 7/8 inches. Outer margin is indented below tip of forewing. Upperside is black with small white spots and some rusty red near wing bases. Hindwing with median band of cream-colored spots.
(Coleman)
Pearl Crescent Phyciodes tharos
1 1/4 - 1 3/4 inches. Quite variable. Males usually have black antennal knobs. Upperside is orange with black borders; postmedian and submarginal areas are crossed by fine black marks. Underside of hindwing has a dark marginal patch containing a light-colored crescent. Spring and fall broods (form marcia) have a gray mottled hindwing below.
(Taylor, Nolan, Jones, Runnels, Coleman)
***************************************************
Other Checkerspot Brush-foots in My Area
Silvery Checkerspot Chlosyne nycteis
1 3/8 - 2 inches. Upperside is pale yellow-orange with dark borders and markings. Hindwing above and below has some white-centered submarginal spots; hindwing below is pale with a large white crescent at the margin.
(Jones)
Tiny Checkerspot Dymasia dymas
7/8 - 1 3/8 inches. Upperside is light brownish orange with narrow dark markings; wings may have dark borders. Female often larger and lighter colored. Underside has a black terminal line and white marginal spots that are flat on the outer edge.
(Taylor, Coke)
Elada Checkerspot Texola elada
7/8 - 1 1/4 inches. Dark brown with rows of small brownish orange spots. Underside of hindwing has a median band of two or three rows of white spots, and a red-orange marginal band.
(Shackelford)
Fulvia Checkerspot Thessalia fulvia
1 1/4 - 1 15/16 inches. Variable. Male upperside is dark orange to blackish with wide dark veins and light bands; female is lighter orange. Underside of hindwing is cream with black veins; black submarginal and postmedian bands contain white spots.
(Nolan)
---
---
Email:
critter"at"catnapin.com
to reduce spam, change "at" to @
please be specific
Copyright Notice: All photos are copyrighted and protected by the laws of the United States.
Unauthorized duplication for sale or distribution is prohibited.