Welcome to Catnapin's
Yellow and Orange Wildflower Gallery
Bilateral Symmetry - Orchid Family
---

Orchid plants have a single stem. The flowers can be singular or clustered in a raceme or spiral. Some orchids have many leaves, some have only a few leaves, some have none.

There is great variety in orchid flowers, but generally they have one lip, two petals, and three sepals.
1) The lip (labellum) is a modified petal, often quite obvious, and a different color than the other petals. It is located in the lower position because the pedicel (flower stem) is twisted 180°. It is the landing site for insects.
2) The two petals are above or to each side of the lip.
3) The three sepals often look like petals.


---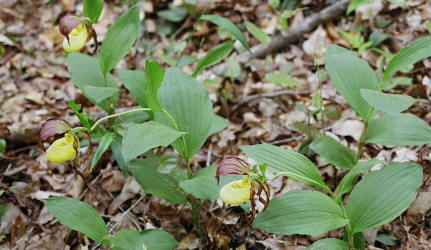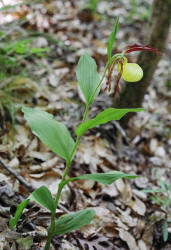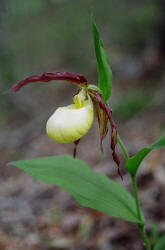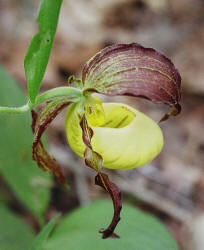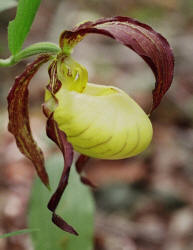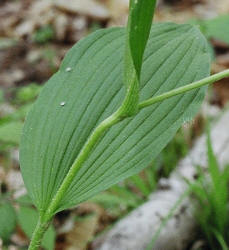 Orchidaceae - Orchid family
Ivory Lady's-slipper (Purloined Slipper) Cypripedium kentuckiense
A current candidate for inclusion on the U.S. List of Endangered and Threatened Species.
Flower has a lip with a 2 1/2" long yellow pouch, and two narrow curly maroon petals to each side. There are three maroon, petal-like sepals: one above the pouch and two conjoined below. There is a leaf-like bract near the flower. 3-5 leaves are about 8" long. Plant grows to about 28" tall in moist ravines in beech dominated hardwood forests. Blooms in April.
Photos taken by Sonnia Hill in Sabine County, Texas, April 2005
(Native of far east Texas)
---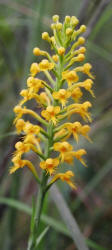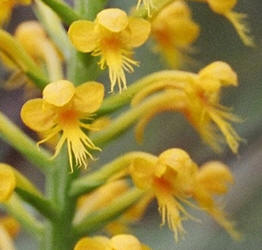 Orchidaceae - Orchid family
Crested Fringed Orchid Platanthera cristata
Tiny flower has a spur and a 1/4" long lip with up to 80 flowers in the cluster (raceme). 3-4 leaves and several bracts on the stem. Pollinated by bumblebees. Plant grows to about 3 feet tall in moist sand and acid soil in the Pineywoods, Big Thicket and also northeast Texas in Morris County. Blooms June-July.
Photos taken by Sonnia Hill in Kisatchie National Forest, Vernon Parish, Louisiana , July 2005
(Native of far east Texas)
---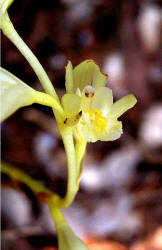 Orchidaceae - Orchid family
Texas Purple Spike - green variation Hexalectris warnockii
Green flower is about 1" wide and 3/4" long. The variation is green (devoid of pigment) instead of maroon and yellow (Texas Purple Spike). An extremely rare plant, it has only been documented in a single location in Dallas County, Texas. Lip has two lateral lobes (hood-like) and a middle lobe with five waxy crests and a tip. No leaves. This plant does not produce chlorophyll. It is myco-heterotrophic, acquiringits nutrients through a symbiotic relationship with a mycorrhizal fungus. Plant grows to about 16" tall under open canopy of oak-juniper trees.
Budding photo taken by Sonnia Hill in Dallas County, Texas, July 2005
Flower photo taken by Jo Spencer in Dallas County, Texas, June 2006
(Native of Texas, isolated counties - Taylor, Dallas)
---
---
Email:
wildflowers"at"catnapin.com
to reduce spam, change "at" to @
please be specific