Welcome to Catnapin's
Purple and Blue Wildflower Gallery
Bilateral Symmetry - Legume Family - Breadroots
---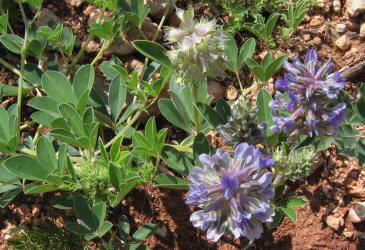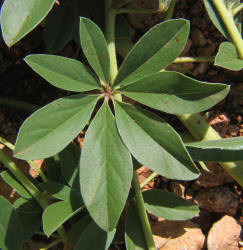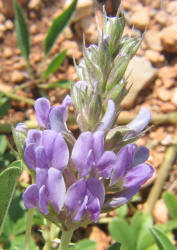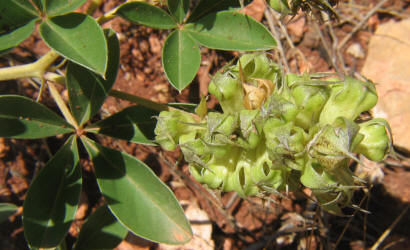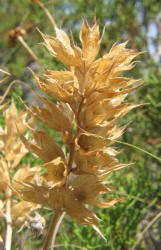 Fabaceae (Leguminosae) - Legume family
Largebract Indian Breadroot (Indian-turnip) Pediomelum cuspidatum (Psoralea cuspidatum)
Flower stalk about 4" tall and 1"-2" wide. Flowers are upright. 5-7 leaflets are palmate, about 3"-4" wide, not hairy. Plant looks like a pale, lazy bluebonnet. Multiple, upright to reclined branches grow about 2 feet long. Oval pod with a single seed. Plant has large tap root.
Photos taken in Taylor County, Texas, April 2005
(Native of Texas - Taylor, Jones, Runnels, Brown, Eastland)

Flowers: blue or purplish, 1/2"-3/4" long, often sweet clover scent.
Fruit: 1/4" long, completely enclosed in the calyx.
Leaflets: broadly lanceolate to rhombic, elliptic or obovate, 2-3(-5) times as long as wide.
Peduncle: (flower stalk) longer than petioles (leaf stalk).
Petiole: (leaf stalk) is subtending (below the leaf).
Stems: decumbent or ascending; occasionally erect, to about 30" long, freely branched.
Glands: dot leaves and fruit.


Similar Species

Prairie Turnip (Large Indian Breadroot) Pediomelum esculentum (Psoralea esculenta)
(Native of Texas - Nolan)



---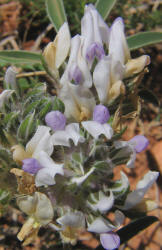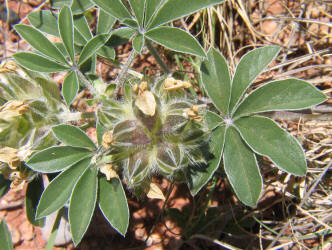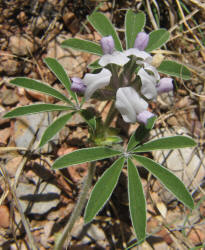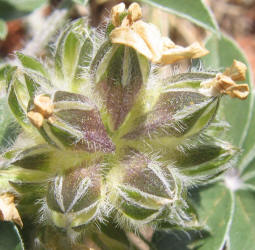 Fabaceae (Leguminosae) - Legume family
Indian Breadroot (Subterranean Indian Breadroot) Pediomelum hypogaeum (Psoralea hypogaea)
Lavender flower is about 1/2" long in large round clusters. Leaves are divided into 5-7 leaflets that are 1"-2" long Leaves are hairy giving the edge a white line. Compact plant grows from a large edible tuber.
Photos taken in Taylor County, Texas, April 2005
(Native of Texas - Callahan, Brown)

Flowers: a dense spike-like raceme; petals purplish or lavender, the pale banner.
Fruit pod: 15-20 mm long, densely pubescent, projecting well past the expanding calyx.
Leaflets: broad, 1/2"-1 1/2" wide and less than two times as long as wide.
Peduncle: (flower stalk) is more than half as long or as long as petiole (leaf stalk).
Petiole: (leaf stalk) is subtending (below the leaf).
Hairs: on peduncles and petioles are wide-spreading.


---
---
Email:
wildflowers"at"catnapin.com
to reduce spam, change "at" to @
please be specific