Welcome to Catnapin's
Prickly Succulent Gallery
Nipple Cactus
---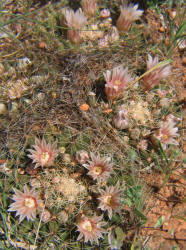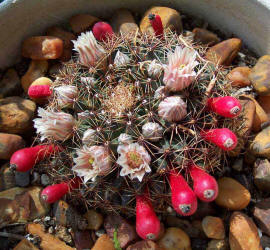 Cactaceae - Cactus family
Little Nipple Cactus Mammillaria heyderi ver. heyderi
Small flowers are creamy pink, funnel shaped, about 3/8" wide. Club-shaped fruit is about 1/2" long and edible. Cactus is a squat 3"-4" wide, in the wild it rarely rises much above the soil. These grow in limy gravel above the line of Permian red clay.
The potted cactus shown is over 25 years old, and I know of a wild one over 50 years old.
Photos taken in Taylor County, Texas, April 2004
(Native of Texas - Taylor, Brown, Coke)
Similar Species
Longmamma Nipple Cactus Mammillaria sphaerica
Large yellow flower with yellow or orange center. Small round cactus with extra long nipples and extra long golden spines, center spine shorter and darker. Areole is round.
(Native of Texas - Taylor)
---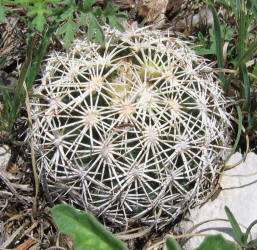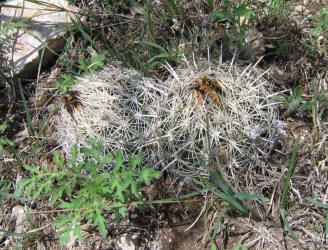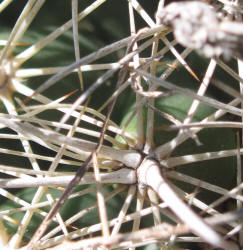 Cactaceae - Cactus family
Sea Urchin Cactus (Prickly Beehive Cactus, Rhinoceros Cactus) Coryphantha echinus (Coryphantha conifera, Coryphantha pectinata)
Large yellow flower with red center (no photo). Round cactus with nipples, about 3" wide. Areole is vertically oblong. When young, this cactus only has the white radial spines. As it ages it produces long central spines (up to 4 each nipple) giving it an urchin look. Green fruit, slimy (no photo). These cactus are found between limestone outcroppings.
Photos taken in Taylor County, Texas, August 2005
(Native of Texas - Coke)
Similar Species
Pineapple Cactus (Finger Cactus) Coryphantha sulcata
Large yellow flower with red center." Round cactus with nipples. White spines with central spine. Areole is round.
(Native of Texas - Brown)
---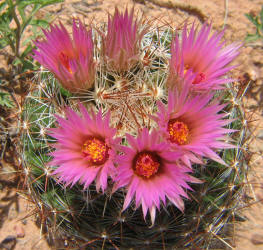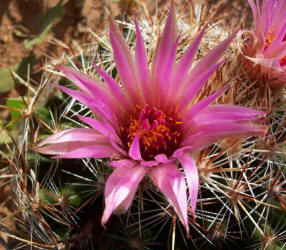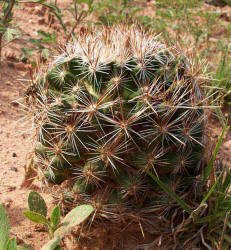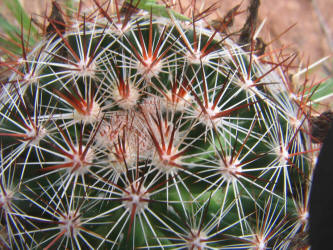 Cactaceae - Cactus family
Spinystar Escobaria vivipara (Coryphantha radiosa)
Flower about 2" wide. Barrel is about 5" wide and 8" tall. Long tubercles with a fuzzy white areole and a ring of spines that do not obscure tubercles, white are planar, several red spines stick outward. Found in 2004, so far this is the only specimen on my father-in-law's ranch. It is growing in deep, limy sand. The main cactus died but a pile of little ones grew out of it (no photo).
Flower photos taken in Taylor County, Texas, April 2004
Cactus photos taken in Taylor County, Texas, April 2005
(Native of Texas - Taylor, Coleman, Brown, Runnels, Coke, Nolan)
Smaller Specimen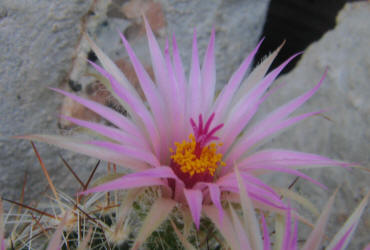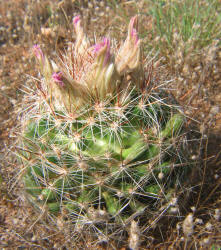 Flower about 1 1/2" wide. Barrel is about 4" wide and 4" tall. Thorns are thin and long. Long tubercles. This cactus had never been found growing on my family's farm until 2004. These are growing in limy gravel above Permian red dirt.
Photos taken in Taylor County, Texas, June 2005
(Native of Texas)
---
Email:
wildflowers"at"catnapin.com
to reduce spam, change "at" to @
please be specific