Welcome to Catnapin's
Mammal Gallery
Squirrel
order Rodentia - family Sciuridae
---
This family comprises tree squirrels, ground squirrels, flying squirrels, chipmunks, prairie dogs, groundhogs, and woodchucks.
---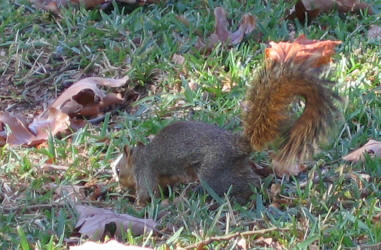 This guy was in the rose garden in Tyler, Texas, totally oblivious to our presence. He was eating or gathering acorns.
Photo taken in Smith County, November 2006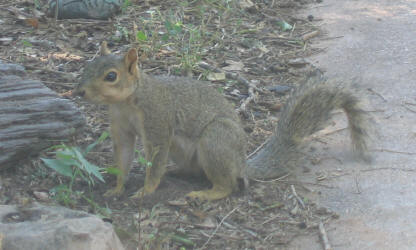 This guy was outside my backdoor enjoying the cool concrete and deliberately irritating the cat inside.
Photo taken in Taylor County, July 2009
Fox Squirrel Sciurus niger
The largest native squirrel in North America and the most common in my area. Often mistaken for the Eastern Gray Squirrel, which is smaller, has a white belly, and bushier tail.
Size: 17 3/4"-27 1/2" body, 7"-13" tail, smaller in the west.
Color: generally brown-gray or brown-yellow fur. In the Appalachians, some are banded with black and white. In the South, some are solid black.
(Native of Texas)
---
Other Species in My Area
American Red Squirrel Tamiasciurus hudsonicus
Eastern Gray Squirrel Sciurus carolinensis
This is the species that was introduced and displacing the native Red Squirrel of England and Ireland. Often confused with the Fox Squirrel; the Gray is smaller, has longer ears, and a long bushy tail.
Size: 9"-12" body, 7 1/2"-10" tail.
Color: generally gray fur, sometimes reddish, black, or white. White belly. Bushy tail.
Texas Antelope Squirrel Ammospermophilus interpres
Black-tailed Prairie Dog Cynomys ludovicianus
Chipmunk Tamias sp.
---
Email:
critter"at"catnapin.com
to reduce spam, change "at" to @
please be specific
Copyright Notice: All photos are copyrighted and protected by the laws of the United States.
Unauthorized duplication for sale or distribution is prohibited.