Welcome to Catnapin's
Insect Gallery
Swallowtail Butterflies
order Lepidoptera - family Papilionidae - subfamily Papilioninae
---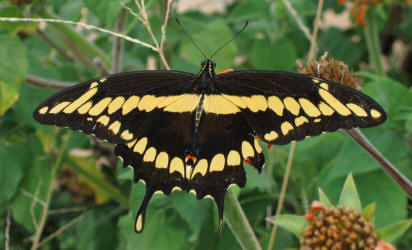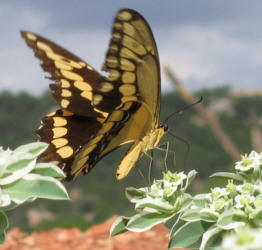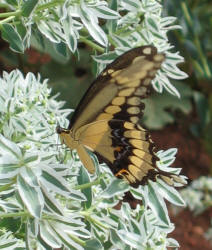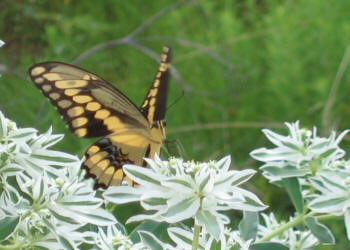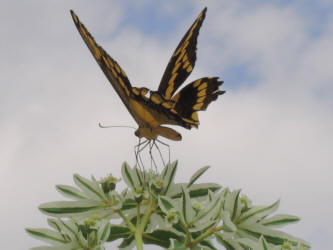 1) Drinking in a garden. 2-5) Eating Snow-on-the-Mountain
Giant Swallowtail Papilio cresphontes
Photos taken in Taylor County, September 2005
Photo taken in Coleman County, September 2005
(Taylor, Nolan, Callahan, Edwards, Coleman, Brown)
Butterfly: 4 - 6 1/4 inches. Eats nectar.
Caterpillar: Black with large white blotches that looks like bird droppings. When annoyed, it rears up and two yellow "horns" protrude from head . Eats Prickly Ash and other citrus trees and herbs.
Pupa: Pupa is brown and "L" shaped with "wires" holding it up. Chrysalides hibernate.
---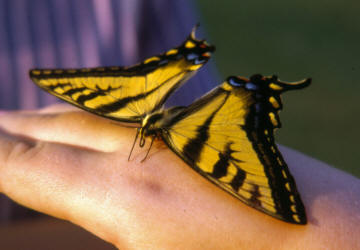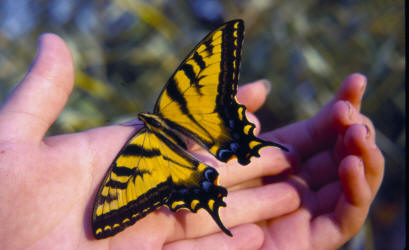 Western Tiger Swallowtail Papilio rutulus
Photo taken in outside Merced, California, September 1972
(Not native to most of Texas)
---
Other Species in My Area
Pipevine Swallowtail Battus philenor
2 3/4 - 5 inches. Upper surface of hindwing iridescent blue or blue-green. Underside of hindwing with submarginal row of 7 round orange spots in iridescent blue field.
(Nolan, Shackelford, Callahan, Edwards, Coke, Coleman, Brown)
Black Swallowtail Papilio polyxenes
3 1/4 - 4 1/4 inches. Upper surface of wings mostly black; on inner edge of hindwing is a black spot centered in larger orange spot. Male has yellow band near edge of wings; female has row of yellow spots. Female hindwing with iridescent blue band. In the Southwest, yellow forms predominate in the subspecies P. coloro.
(Callahan, Edwards, Coke, Coleman, Brown)
Two-tailed Swallowtail Papilio multicaudata
3 1/2 - 5 inches. Upper surface of male forewing with narrow black stripes. Each hindwing has 2 tails.
(Taylor)
---
Email:
critter"at"catnapin.com
to reduce spam, change "at" to @
please be specific
Copyright Notice: All photos are copyrighted and protected by the laws of the United States.
Unauthorized duplication for sale or distribution is prohibited.