Welcome to Catnapin's
Insect Gallery
Sphinx Moths
order Lepidoptera - family Sphingidae
---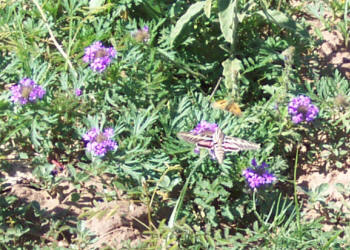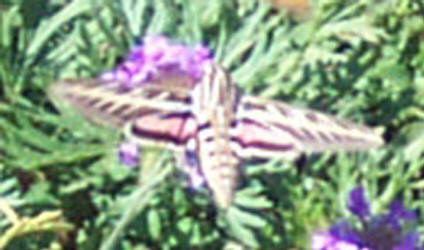 1-2) This month the field was purple in Prairie Verbena and each had a Sphinx moth.
subfamily Macroglossinae, tribe Macroglossini
Whitelined Sphinx Hyles lineata
Photo taken in Taylor County, May 2002
Moth: 2 7/16" - 3 9/16" wide
Caterpillar: Yellow-orange heads; bodies lengthwise dark green and black stripes sometimes yellow stripes; 3 1/8" long; Long orange spine on rear. Good fish bate.
Pupa: live in soil
---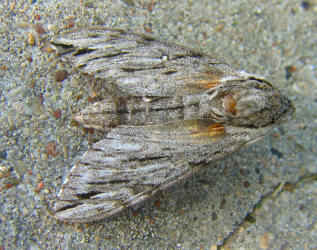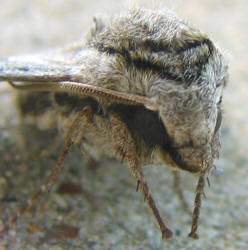 Cold moth.
subfamily Sphinginae, tribe Sphingini
Plebeian Sphinx Paratrea plebeja
Photo taken in Taylor County, April 2006
Moth:
Caterpillar:
Pupa:
---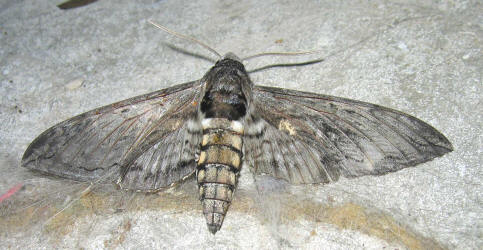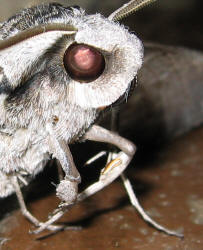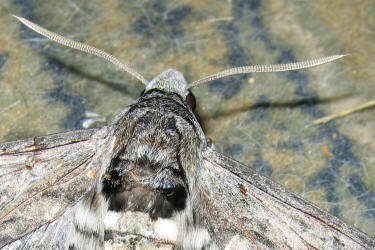 This poor moth was brought in by one of our cats. Everybody had to look at it. Once she got it back, she eat everything but one wing and a couple legs.
subfamily Sphinginae, tribe Sphingini
Great Ash Sphinx Sphinx chersis
Photo taken in Taylor County, June 2007
Moth:
Caterpillar:
Pupa:
---
Other Species in My Area
Clavipes Sphinx Aellopos clavipes
2 - 2 1/2 inches. Body is dark brown with a wide white band across the abdomen. Wings are dark brown. Forewing has a black cell spot and 3 white spots near the pale brown marginal area.
(Coleman)
Nessus Sphinx Amphion floridensis
1 7/16 - 2 3/16 inches. Body is stout; abdomen has 2 bright yellow bands and a tuft at the end. Upperside of wings is dark red-brown. Hindwing has a red-orange median band and a yellow spot on the costal margin; in some moths the median band ranges from pale to almost absent.
(Taylor)
Azalea Sphinx Darapsa choerilus (D. pholus)
2 1/4 - 2 15/16 inches. Forewing upperside is yellow brown to reddish brown with a purple tinge, with paler bands in the middle of the wing and along the outer margin. Hindwing upperside is orange with a faint pale band along the inner margin.
(Brown)
Vine Sphinx Eumorpha vitis
3 3/8 - 4 1/8 inches. Upperside is dark pinkish brown. Forewing has sharp pinkish white bands and streaks. Hindwing has a pink patch along the inner margin and pale whitish brown along the outer margin.
(Brown)
Snowberry Clearwing Hemaris diffinis
1 1/4 - 2 inches. Adults mimic bumblebees. Wings are transparent with dark brown to light brownish orange borders. Forewing cell lacks dark scales.
(Coleman)
Modest Sphinx Pachysphinx modesta
3 - 4 11/16 inches. Upperside of forewing is gray with the basal third lighter; sometimes the outer third also is light, leaving just the median band dark. Upperside of hindwing is gray with a crimson patch and an inward-pointing blue-black triangle near the outer margin.
(Brown)
Twin-spotted Sphinx Smerinthus jamaicensis
1 3/4 - 3 1/4 inches. Outer margin of forewing is unevenly scalloped; costal margin of hindwing is almost straight. Upperside of male forewing is gray with black and white markings; female is yellowish brown with dark brown and white markings. Hindwing of both sexes is mostly red with a pale yellow border; blue patch may appear as a single eyespot or be divided by black bands to create two or three spots.
(Brown)
Incense Cedar Sphinx Sphinx libocedrus
2 3/4 - 3 1/4 inches. Forewing is pale blue-gray to dark gray with a black dash reaching the wing tip and a white stripe along the lower outer margin. Hindwing is black with 2 diffuse white bands.
(Brown)
---
Email:
critter"at"catnapin.com
to reduce spam, change "at" to @
please be specific
Copyright Notice: All photos are copyrighted and protected by the laws of the United States.
Unauthorized duplication for sale or distribution is prohibited.