Welcome to Catnapin's
Insect Gallery
Gossamer-wing Butterflies - Blues
order Lepidoptera - family Lycaenidae - subfamily Polyommatinae
---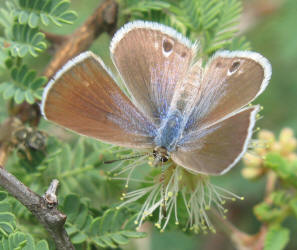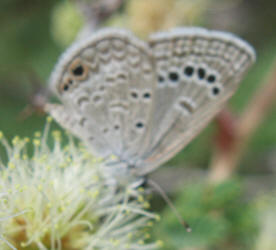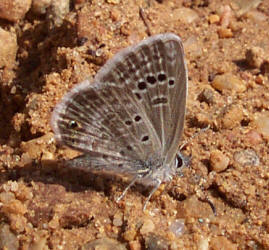 1-2) Eating Catclaw Mimosa. 3) Drinking from a puddle.
Reakirt's Blues Hemiargus isola
Photo taken in Taylor County, May & July 2005
(Taylor, Nolan, Fisher, Jones, Shackelford, Callahan, Eastland, Coke, Runnels, Coleman, Brown)
Butterfly: 3/4"-1 1/8" wide. Eats nectar. Migrates from Central America to mid North America.
Caterpillar: Eat flowers and seedpods: Pea family, clovers and trees. Ants protect the caterpillar for its sugary secretions.
Pupa: x
---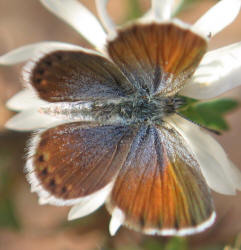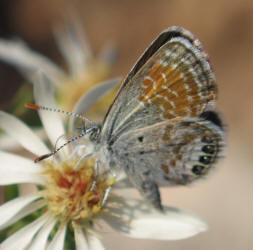 Western Pygmy-Blue Brephidium exile
1/2 - 3/4 inch. Tiny. Upperside copper brown with dull blue at the bases of both wings. Underside of hindwing is copper brown with white at the base; fringe mostly white; 3 small black spots near base; row of black spots at outer margin.
(Coke, Coleman)
---
Other Species in My Area
Ceraunus Blue Hemiargus ceraunus
3/4 - 1 1/8 inches. Upperside of male light blue with a darker narrow border; female dark brown, often with wing bases blue. Underside gray; both wings with a row of dark postmedian dashes. Florida butterflies have one submarginal eyespot on hindwing; Southwest butterflies have two.
(Coleman)
Eastern Tailed-Blue Everes comyntas
7/8 - 1 1/8 inches. One narrow tail on hindwing. Upperside of male iridescent blue; summer females uniformly brown, spring females smaller with much blue at the wing bases. Underside of hindwing pale gray with black bar at end of cell, distinct black spots, and three large orange spots at outer margin near tail.
(Nolan, Fisher, Runnels)
Lupine Blue Plebeius [Icaricia] lupini
(Fisher)
---
Email:
critter"at"catnapin.com
to reduce spam, change "at" to @
please be specific
Copyright Notice: All photos are copyrighted and protected by the laws of the United States.
Unauthorized duplication for sale or distribution is prohibited.