Welcome to Catnapin's
Bird Gallery
Hawks and Falcons
order Falconiformes - family Accipitridae
---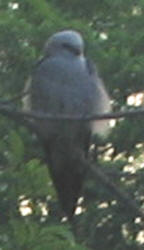 Subfamily Accipitrinae
Mississippi Kite Ictinia mississippiensis
This is a kind of hawk that reminds me of a giant fly catcher. It is mostly gray with a triangular black tail. A pair nests in my backyard pecan tree. They take turns sitting and hunting.
Photo taken in Taylor County, May 2007
(Native of Texas)
---
Email:
critter"at"catnapin.com
to reduce spam, change "at" to @
please be specific
Copyright Notice: All photos are copyrighted and protected by the laws of the United States.
Unauthorized duplication for sale or distribution is prohibited.